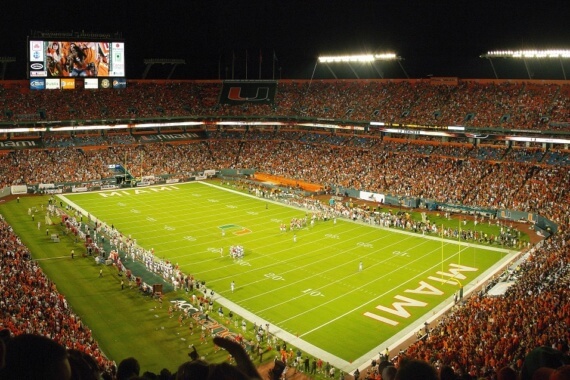 College Sports
The phenomenon of American college / university sports is difficult to grasp unless you have experienced it first-hand. College sports are the 2nd tier of sports, the feeder system into the professional game. The likes of Tiger Woods, John Isner, Michael Jordan, Missy Franklin, Mia Hamm, Clint Dempsey were college athletes. The level and scale do not compare to any other university sports in the world. There are more than 500,000 student-athletes in the United States, so there is a level for everyone.
Read more
Top student-athletes are celebrities and icons. American football teams often play in front of 100,000 fans in fantastic stadiums on the university campus. Student-athletes compete in this atmosphere watched by millions of people on ESPN every week. The results and glamour of US college sports feature on national television, digital media and newspapers.
The performance and the results of the university teams are paramount to the fans and the local community. The support and passion for the sports teams is as passionate as most club sports in the world. This loyal support and media interest makes college sports a multi-million dollar industry.
Fantastic college sports scholarships
US coaches scout the globe for the best possible athletes that can improve the team. They recruit athletes by offering lucrative sports scholarships. There are a range of scholarship opportunities in America, including sports scholarships, academic scholarships and international scholarships offered by the university or college. The best possible scholarship is referred to as a "full ride", and covers the costs of tuition and fees, room and board, and textbooks. 100% of the costs are covered – a fantastic deal!
There are more than 500,000 student-athletes in the United States, so there is a level for everyone. There are scholarships offered on each of the various levels in college sport!
Being a student-athlete is a similar to the lifestyle of a professional athlete, but instead of wages, college athletes receive a paid education through a sports scholarship. Remember, student-athletes are students just as much as the regular students at the university. They take the same classes and the same university degrees.
College sports is a fantastic way of combining education with high-level sports whilst getting it funded through a scholarship. It is a privilege to be a part of.
Can I get a college sports scholarship?
To find out if you can qualify for a college sports scholarship at an American university, take a few minutes and complete the Free Assessment and we'll evaluate your chances for free – no obligations!
Featured student-athletes
Since 2008, our experienced team of full-time Sports Consultants have assisted 2000+ student-athletes, from hobby level to elite sports level, with the process of combining sports with higher education in the US on sports scholarships. Check out a selection of our student-athletes here.
OUR STUDENT-ATHLETES

Richard Wincer
Soccer

William Heuser
Soccer

University of Wisconsin-Superior

Marcus Lindqvist
Soccer

Alana Copeland
Soccer
New Jersey Institute of Technology

Martin Færøy Muller
Soccer

Henrik Robstad
Soccer
Coastal Carolina University
WHAT OUR STUDENT-ATHLETES SAY
Nicola Worthington
University of Bridgeport, Connecticut
For me it's simple, don't have any doubts just go for it. The experience I had in America was the best time of my life. I developed so much as a person, met so many amazing people from all corners of the world, and achieved things beyond my expectations. For me it's a no brainer!
Emilie Ekeli Larsen
Duquesne University, Pennsylvania
You experience new places, meet new people, develop your English skills, get a chance at investing in your sport, and you get an education; all at the same time!
Vebjørn Olstad
Limestone College, South Carolina
CSUSA created a sense of safety for you as the coaches made contact, really wanted YOU as a part of their team. Instead of chasing schools, you are being "headhunted." CSUSA gives you a unique opportunity of finding the schools that satisfies your wishes, needs, and your dreams.
Anka Grotle
University of Texas San Antonio
As a student-athlete everything is set in place for you and your team to succeed both athletically and academically. It will be demanded more of you there, and discipline is a key word. As a consequence you have a massive development as a person, something I think is a big advantage for your results in school and when you're making the step into the work life.
Marius Krathe
Stony Brook University, New York
It was amazing to play a game broadcasted live on ESPN away to University of Connecticut. It was over 4,000 people in attendance that created a great atmosphere around the game. I played the whole game, and this is one of the biggest things I have experienced as a soccer player.
Martine Olsen
Embry-Riddle Aeronautical University, Florida
Not only do you get to play the sport you love while getting your education, you get to live in another country and culture, and to make friends from all over the world. And you will separate yourself from the competition when you get out in the job market.
By using CSUSA's services I got the complete package that I was looking for. Contacting coaches by myself would be nearly an impossible task. CSUSA has been in the business over a long period of time, and provides with every single detail in the process of going to the US.
Marthe Berg Sørensen
Long Island University Post, New York
I recommend everyone to travel to the US to combine education and sports, because you learn so much more by being a student-athlete in another country. Both the language, the culture, and the things in life that cannot be taught on the school bench. You will have incredible fun!
PURSUE AMBITION
Do you qualify for a College Sports Scholarship in the United States? Complete the Free Assessment form and we will evaluate your chances!
Free assessment