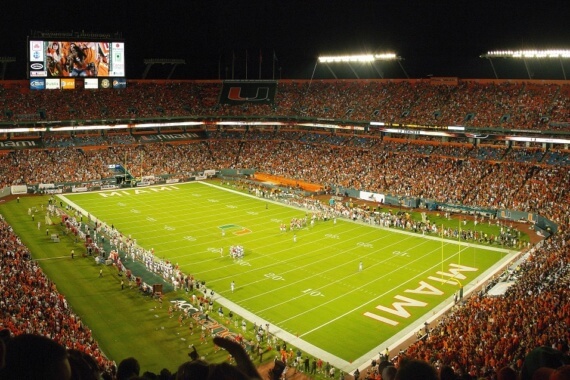 College Sports
The phenomenon of American college / university sports is difficult to grasp unless you have experienced it first-hand. College sports are the 2nd tier of sports, the feeder system into the professional game. The likes of Tiger Woods, John Isner, Michael Jordan, Missy Franklin, Mia Hamm, Clint Dempsey were college athletes. The level and scale do not compare to any other university sports in the world. There are more than 500,000 student-athletes in the United States, so there is a level for everyone.
Read more
Top student-athletes are celebrities and icons. American football teams often play in front of 100,000 fans in fantastic stadiums on the university campus. Student-athletes compete in this atmosphere watched by millions of people on ESPN every week. The results and glamour of US college sports feature on national television, digital media and newspapers.
The performance and the results of the university teams are paramount to the fans and the local community. The support and passion for the sports teams is as passionate as most club sports in the world. This loyal support and media interest makes college sports a multi-million dollar industry.
Fantastic college sports scholarships
US coaches scout the globe for the best possible athletes that can improve the team. They recruit athletes by offering lucrative sports scholarships. There are a range of scholarship opportunities in America, including sports scholarships, academic scholarships and international scholarships offered by the university or college. The best possible scholarship is referred to as a "full ride", and covers the costs of tuition and fees, room and board, and textbooks. 100% of the costs are covered – a fantastic deal!
There are more than 500,000 student-athletes in the United States, so there is a level for everyone. There are scholarships offered on each of the various levels in college sport!
Being a student-athlete is a similar to the lifestyle of a professional athlete, but instead of wages, college athletes receive a paid education through a sports scholarship. Remember, student-athletes are students just as much as the regular students at the university. They take the same classes and the same university degrees.
College sports is a fantastic way of combining education with high-level sports whilst getting it funded through a scholarship. It is a privilege to be a part of.
Can I get a college sports scholarship?
To find out if you can qualify for a college sports scholarship at an American university, take a few minutes and complete the Free Assessment and we'll evaluate your chances for free – no obligations!
Featured student-athletes
Since 2008, our experienced team of full-time Sports Consultants have assisted 2000+ student-athletes, from hobby level to elite sports level, with the process of combining sports with higher education in the US on sports scholarships. Check out a selection of our student-athletes here.
OUR STUDENT-ATHLETES
Lise Nisja
Soccer

Lotta Hitschke Fennefoss
Soccer
University of South Florida

Ronni Mleczkovicz
Soccer

Kasper Kvello
Soccer
Jonathan Gullberg
Soccer

Camden County University

Mark Dawson
Soccer

Keiser University
WHAT OUR STUDENT-ATHLETES SAY
Kristin Haugstad
La Salle University, Pennsylvania
College is "the full package"! The opportunity of playing at a high, almost professional, level, get a good education at an American university, and at the same experience a whole new place and a different culture, were definitely of the reasons for why I went.
The best about getting CSUSA's help is that you always have guidance and people that helps you with everything from paperwork to the promotion of you as a player to hundreds of schools across the USA.
Pernille Sol Langseth Orlien
University of Arkansas Little Rock
I highly recommend CSUSA, because they listen to wishes and preferences for everyone in terms of what type of school you're looking for, the location of the school, and what is important when it comes to coaches and teams.
I recommend CSUSA because they found me different options and scholarship offers, so that I could actually choose between multiple schools until I found the one that fit me.
Bestun Mohammad
Nova Southeastern University, Florida
The best thing about being a student-athlete in the States is that you will meet so many people with diverse backgrounds, which makes you able to make friends from all corners of the world!
Randi Selbekk
Seton Hill University, Pennsylvania
If you consider becoming a student-athlete in the States, I would highly recommend engaging CSUSA. They have the experience and network to fulfill your preferences and make the process as easy as possible. I got great support throughout the entire process, and they were always available to give me guidance.
Camilla Olsson
University of Arkansas Little Rock
CSUSA helps you with everything from paperwork, the application process, to getting offers from multiple schools. They give their best effort to get you the school that is the best match for you, so that you can have a great experience in the US.
The best thing about being a student-athlete in the US is that you develop as an athlete, but also maybe more importantly as a human. These are most likely the best four years of your life – a fantastic time where you experience a lot, learn a lot, and have a really good time!
PURSUE AMBITION
Do you qualify for a College Sports Scholarship in the United States? Complete the Free Assessment form and we will evaluate your chances!
Free assessment