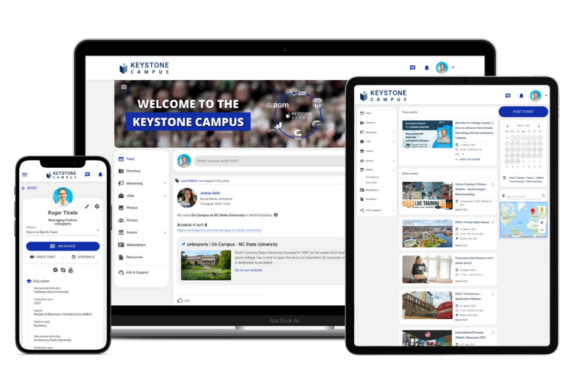 KEYSTONE CAMPUS
Our platform to connect Keystone student-athletes and their families with college coaches, universities, companies, and each other.
YOUR CAMPUS PATHWAY
At Keystone Sports, we recognize our role is more than just sending student-athletes to compete and to study, and that every individual has different needs and goals. To find you the best opportunities and future careers, we actively collaborate with universities, companies, and brands all around the world.
COLLEGE TRANSITION

We know that going to the US for college is a difficult step in your life and comes with a lot of ups and downs. That is why we support you on your way and make sure you settle in to your new home.

RECEIVE ​INSIGHTS AND SUPPORT

Get first-hand information from college experts, current students and partners on the college transition, how to prepare for the next step in life and other topics during your journey.

COLLEGE SUPPORT

You and your family can receive support at any time while you are studying in the United States or Canada, so that no question or problem remains unresolved!

EXPLORE ​YOUR ACADEMIC FUTURE

Find out more about Bachelor- and Graduate Programs, interesting majors and minors, as well as additional development opportunities.

AFTER COLLEGE PREP

Enhance your network by connecting with potential employers to find internships and jobs or continue your education at a graduate school.

Companies will showcase themselves, post personalized job offers or contact students directly.

FIND ​A CAREER PATH

Benefit from our experience and network when making your decision to enter the professional world.

Coming back to Europe, staying in the US or turning pro in your sport – we got you covered!
OUR COMMUNITY
We provide a social network for international education and career opportunities, personal development, and sports, from school to the professional world.
ALL THE FEATURES YOU NEED
This market leading platform guides you to fully enjoy the college experience and provides critical resources attained over our 20+ years' experience, setting you up for a successful future.

LIVE FEED
Insights into college programs and universities, how to navigate the life as a student-athlete and prepare for the next steps.

DIRECT MESSAGING AND VIDEO CALLS
Easy on-platform communication to build a personal relationship with fellow Keystone students, college coaches, universities and companies.

VIRTUAL AND IN-PERSON EVENTS
Attend Keystone Sports showcases, join webinars from partners and universities or watch live college competition.

CAREER CENTER AND EDUCATIONAL RESOURCES
Access continuing education opportunities, internships, and job offers to learn real-world skills and navigate your way into the professional world.

PARTNER BENEFITS
Benefit from discounts and advantages through partners in the Keystone Sports network.