Sarah Borwell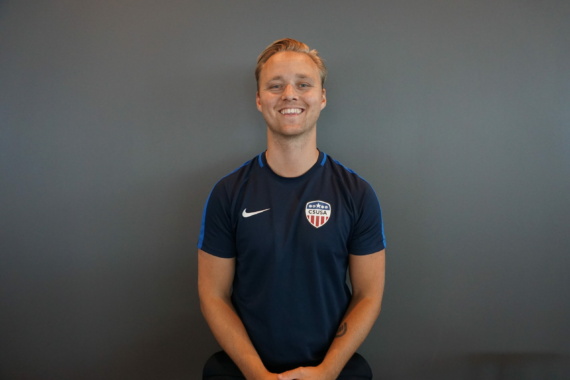 Jeppe Hæhre
Recruitment Consultant

Quinnipiac University, Connecticut
Jeppe Hæhre works as a Recruitment Consultant out of our HQ in Oslo, Norway. He is a former NCAA D1 team captain, All-region soccer player, and has completed his bachelor's and master's degree at Quinnipiac University in Connecticut.
Jeppe's college career began at Quinnipiac University in 2016. The school competes in the Metro Atlantic Athletic Conference in NCAA D1. In his first season, Quinnipiac won the MAAC regular season with Jeppe selected as a First-Team All-MAAC and a 43rd place on top 100 freshmen list by Top Drawer Soccer. Jeppe formed a strong center back partnership with fellow classman Conor Mccoy from Ireland. During his remaining time at Quinnipiac, Jeppe tallied another first-team All-MAAC, second-team All-East region and MAAC All-Academic.
In 2020, Jeppe earned his bachelor's degree in Communications with a minor in Sports Studies. To gain further experience, Jeppe did a summer internship in 2019 at Omega Media where he expanded his skills and knowledge relevant to the communication industry. Jeppe also completed his master's in Public Relations from Quinnipiac.
Helset If was Jeppe's childhood club in Norway. He competed in handball and soccer, but soccer became the main priority as he joined the academy of Norwegian Premier League club Stabaek IF in 2011. As Jeppe rose through the academy-ranks in Stabaek, he was awarded "Player of the year" on U16. Jeppe attended Norges Toppidrettsgymnas. He was a big part of u19 and Stabaek Reserves, logging 29 games in total for the second team.
As Jeppe's older brother had utilized CSUSA's services to experience the student-athlete life at Virginia Commonwealth University and Hawaii Pacific University, he saw what a transformational experience studying in America can be. CSUSA's services became a natural choice given their vast experience and steady support throughout his brother's four-year journey.
"Given how I'd seen my older brother grow as a human being in the States, I felt compelled to seek similar development. The opportunity to play the sport I love daily at an elite level, earn a degree and meet people from unfamiliar cultures was too good not to pursue. It became an incredible learning experience for me, where I grew as a person and created friendships that'll cherish for the rest of my life. America's love for sport is inspiring and creates endless opportunities for those who take advantage. Through CSUSA, Quinnipiac University gave me the best and most transformative 5 years of my life."
FAVORITE PLACE IN THE USA:
Madison Square Garden, New York City
FAVORITE FORMER COLLEGE ATHLETE:
Kawhi Leonard (basketball), San Diego State University
FAVORITE MOMENT IN COLLEGE CAREER:
The comradery that was built throughout my first fall season. A special group of players with an assistant coach (Marcos Spanos) who truly knew how to bond a team. The best moment must be the locker room celebrations, with a slip n slide in the showers after winning the regular-season championship.
FAVORITE QUOTE:
"You reap what you sow."