Camilla Alderin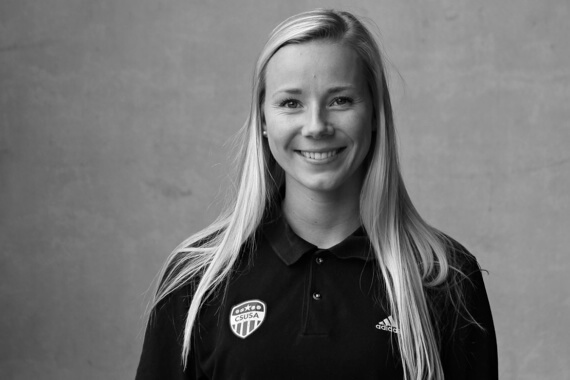 Hanne D. Neby
Recruitment Consultant

University of Bridgeport, Connecticut
Hanne D. Neby has been working at CSUSA since June 2017. She is a Recruitment Consultant and works primarily with our Norwegian women's soccer players, skiers and track & field athletes.
Hanne D. Neby studied and played college soccer her first two seasons at University of Texas at Brownsville, a school which at that time played in the Red River Athletic Conference (NAIA). She had two good seasons where she both years was named First-team All-Conference, before she transferred schools and became a Purple Knight at University of Bridgeport in Connecticut (NCAA D2). In Bridgeport she was part of a record-breaking team when UB Women's Soccer made it all the way to NCAA D2 Final Four for the first time in the program history. The team was also back-to-back Conference champions and Regional Champions in 2016. In her two seasons as a Purple Knight, Hanne started all the games and received several awards, such as First-Team All-Conference and First-Team All-East Region.
In 2017, she graduated from University of Bridgeport with a General Health Science Bachelor's degree, and a 3.9 GPA. With her excellent academic achievements, she was also a regular on the schools President's List.
Hanne grew up in Hamar, Norway (one hour north of Oslo), and in the time prior to college she played for FL Fart. At her time in the club she experienced playing both in the Norwegian 1st division (2nd tier) as well as in Toppserien (highest league). She was a student at the sports high-school Storhamar VGS, and decided to follow her dreams about college soccer when graduating. Fall 2013 she moved to Texas where she started the first of her four years in the States.
"The four years I've had in college are the best four years of my life. The possibility to play the sport you love combined with education is one of a kind, and in addition you get to know people from all over the world with dreams and ambitions like your own. With the positive experience I've gained from my time in college, I hope to help many young, adventurous athletes get the chance to experience the same."
FAVOURITE PLACE IN THE USA:
New York City
FAVOURITE FORMER COLLEGE ATHLETE:
Kristine Lilly, UNC Tar Heels
FAVOURITE MOMENT IN COLLEGE CAREER:
Beating The Regional Final in 2015 against Adelphi University. From being down 1-0, we tied the game before our captain boomed a free-kick from 20 meters into the top corner, and we were up 1-2 with less than 10 minutes left of the game. We kept the lead until the game was over, and could proudly lift the trophy as East Region champions for the first time in UB Women's Soccer history.
FAVOURITE QUOTE:
"We are what we repeatedly do. Excellence, then, is not an act, but a habit." – Aristotle
---